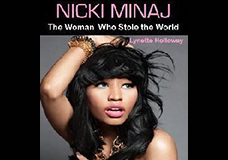 With never before seen photos and interviews that bring you deep into the heart and soul of this modern day Queen of Hip-Hop, author Lynette Holloway, will take you on a journey of uncompromising talent, beauty and starships. From the island of Trinidad & Tobago, to the crack filled streets of South Jamaica, Queens, to Young Money with Lil Wayne and Drake, to her spell binding collaborations, to Pink Fridays and Roman Holidays, to the turmoil and drama of her amazing internationally reknowned and acclaimed World Tours.
This is the story of a Onika Tanya Maraj, born on December 8, 1982 in St. James, a suburb of Trinadad and Tobago's capital city Port of Spain, of African, Trinidadian and Indo-Asian descent, who grew up singing in the choir, in a home, filled with drugs, alcohol, violence and her mother's love.
This is the story of Nicki Minaj a young girl living in New York City, with the drive, discipline and determination to make this world and this moment, all her's, "FOR LIFE".
I fly with the stars in the skies, I am no longer trying to survive, I believe that life is a prize, but to live doesn't mean you're alive…..We done did everything they can think of – Greatness is what we on the brink of. I wish that I could have this moment for life, for life, for life Cuz in this moment I just feel so alive, alive, alive. – "Moment For Life" – NICKI MINAJ
The only question for Nicki Minaj is how far she wants to take the game. She has littered the landscape with past MCs like Lil Kim and Foxy Brown, who for all intents and purposes have been outcast by this futuristic Barbie.
The hip-hop movement that began in the Bronx during the 1970s has spread around the globe, in Europe, Australia, Africa, Asia and the Middle East – It was just a matter of time before a woman hip-hop star would come through the cracks separating pop from rap and appeal to two powerful audiences at once and become a megastar.
In just two short years, Nicki's worldwide album sales exceed four million; she has close to 20 million Facebook 'Likes' and an unbelievable 13 million-plus Twitter followers and will reach the homes of over 200 million people worldwide as she becomes the newest addition as a judge on the worlds greatest talent show, "American Idol".
Based on a strong reputation built through mix-tapes and guest appearances with legendary artists, Nicki's debut 'Pink Friday' was one of the most anticipated albums of 2010 and it did not disappoint. Featuring cuts 'Your Love', 'Right Thru Me', 'Moment 4 Life', and 'Check It Out' featuring Will.I.Am, 'Pink Friday' was certified platinum a month after its release and soon reached Billboard's # 1 spot.
The now multi-platinum debut 'Pink Friday' boasts the most charted singles by any female rap artist and album in Billboard history, while Nicki herself became the first artist to have seven singles on the Billboard Hot 100 chart simultaneously. Garnering a MTV Video Award, two American Music Awards and three Grammy Awards nominations, it was no surprise that Billboard Magazine named Nicki Minaj their 2011 Rising Star.
Nicki Minaj's sophomore album, 'Pink Friday: Roman Reloaded', released April this year, is home to the multi-platinum mega-smash 'Starships', 'Right By My Side' featuring Chris Brown, 'Beez In The Trap' and the infectious 'Pound The Alarm'.
Nicki Minaj: The Woman Who Stole the World has been licensed by Bookspan's "Black Expressions Book Club" and "The Book of the Month Club" as a featured selection.
Nicki Minaj: The Woman Who Stole the World chapters include: "The Rulers of Modern Hip-Hop and Young Money", "Nicki Minaj Growing Up", "Lil Wayne Discovers Nicki", "Making The First Album – Pink Friday", Nicki's Launch towards Superstardom", "Black Barbie, Japanese Anime, Lady Gaga", Making the Second Album – Pink Friday: Roman Reloaded" and "Nicki Minaj On Tour"