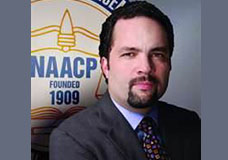 The NAACP recently announced its plan to turn out over 1.2 million voters by the times polls close on Election Day.  The 1.2 million includes some  432,935 new voters which the NAACP registered as part of its This is My Vote! civic engagement program.
"With so much at stake in the upcoming election, the NAACP has dedicated its time and resources to ensure more African Americans have their votes counted at the ballot box than ever before," stated NAACP President and CEO Benjamin Todd Jealous.
"Our predecessors sacrificed their time, bodies, and lives to secure the right vote for our community. It is now our responsibility to see this critical right exercised by African American's across the country."
With this year's civic engagement campaign, the NAACP eclipsed the organization's previous high-water mark set back in 2008. The 2012 registration total is 3.5 times greater than in 2008 (2012: 432,935 vs. 2008: 124,000) and the GOTV universe is more than twice as large (2012: 1.2 million vs. 2008: 500,000).
The NAACP's registration totals are the culmination of a nationwide effort by NAACP field organizers and volunteers canvassing neighborhoods across the country.
The registration tallies were bolstered by an online registration website, the 1-866-My Vote-1 voter registration hotline, and a robust mail program. The NAACP also partnered with the dozens of civil and labor rights organizations, church groups, fraternities and sororities, and community associations to expand the reach of its registration drive.
"What we have accomplished is historic," stated Marvin Randolph, NAACP Sr. Vice President for Campaigns. "But our job will not be finished until the last call is made, the last door is knocked, the last ride to the polls is provided, and every polling place is closed."