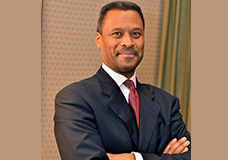 The Morehouse College Board of Trustees recently announced that Dr. John Silvanus Wilson Jr. has been named the College's 11th president.
The appointment follows a rigorous, nationwide search conducted with professional recruitment firm Heidrick & Struggles. The search was launched following the January 2012 announcement that Dr. Robert M. Franklin would be transitioning from his role as president at the end of the year.
"I thank the Board and the search consultants for their thorough evaluation of the excellent pool of candidates and commend all on their outstanding recommendation," said Robert C. Davidson Jr., chairman of the Morehouse College Board of Trustees. "Dr. Wilson has the vision, experience and passion to ensure that Morehouse continues to advance its aim of producing global leaders who will continue to make a difference in the world. His record of academic excellence and public service is exemplary of the standard we hold for Morehouse Men. The Board and I are confident that, with his leadership, we will be well-positioned to continue delivering the educational environment that prepares our students for lives of leadership and service."
Wilson, a 1979 graduate of the College, comes to Morehouse with more than 25 years of leadership in higher education and a strong and successful record in institutional fund raising. In addition, Wilson has extensive expertise in defining and advancing the interests of black colleges through his research at George Washington University, his service on the Spelman College Board of Trustees and as executive director of the White House Initiative on Historically Black Colleges and Universities.
"John has been a trusted voice, helping my administration follow through on our commitment to strengthen historically black colleges and universities," said President Barack Obama. "I wish John the best as he takes on this important new role as the president of Morehouse College and as he continues to inspire more of our nation's youth to pursue higher education."
As executive director of the White House Initiative, Wilson worked to strengthen the capacity of 105 HBCUs and led his team to work with the White House, 32 federal agencies, and the private corporate and philanthropic sectors in securing capital.
"John has been a leader among leaders, advocating for Historically Black Colleges and Universities and challenging them to be the best they can be," U.S. Secretary of Education Arne Duncan said. "Morehouse College is fortunate to have John as its next president, and President Obama and I are fortunate to benefit from John's continuing commitment to reach our national goal of leading the world in college graduates by 2020."
Wilson will officially assume the role of president at the end of January 2013. Willis B. Sheftall Jr., interim provost and senior vice president for Academic Affairs, will serve as acting president from January 1, 2013, until Wilson officially takes office.
"Throughout his distinguished career, Dr. Wilson has demonstrated his commitment to supporting the critical role HBCUs serve within our national educational landscape," said Robert M. Franklin, 10th president of Morehouse. "Our institution and our students will be very well served by Dr. Wilson's experience, focus and passion."
"I am honored to be chosen to lead this hallowed institution and my alma mater," said Wilson. "Dr. Franklin's efforts to raise the international profile of the College and advance our mission through his 'Morehouse Renaissance' are just a few among the many significant accomplishments by which he will be remembered. I thank the Board for its confidence in my leadership and look forward to working with faculty, students and staff, and continuing our proud tradition of producing global leaders."