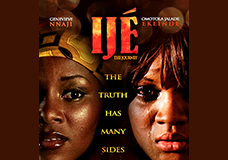 Opening to rave reviews when it premiered in 2010, Ijé was an instant box office hit in Nigeria, selling almost as many tickets as "Avatar." The film went on to win top prizes at the San Francisco Black Film Festival, the Canada International Film Festival, Hawaii International Film Festival, Arizona Black Film Showcase, Las Vegas International Film Festival, and Mexico International Film Festival, among others.
Ijé is the story of two sisters who chose radically divergent paths in life, each one influenced differently by a childhood of poverty and violence. Against her father's wishes, Anya (Ekeinde) moved to Los Angeles to pursue her dream of becoming a recording artist. Chioma (Nnaji) remained behind in Nigeria, making her profession in the banking industry. Neither has seen each other for years when Ana is charged with three counts of first-degree murder in the death of her husband, a successful record producer, and two strangers he brought home to their Hollywood Hills mansion. It soon surfaces that she is mysteriously withholding vital details that could acquit her. Chioma and Anya's new attorney, Jalen Turner (Ulrich Que), have only hours to solve the mystery before the trial begins.
"Ijé  is the story of a sister's love, but most importantly it reveals the repressed voice of many women across Africa," writes Joy Isi Bewaji for Nigerian Entertainment Today. "Ijé brings to the fore some important themes in today's world, including love, racism, culture, stigma and life as an immigrant in a foreign country….This movie also highlights the culture of shame and silence and the stigma attached to rape and rape victims. Indeed a clash of two cultures, social attitudes towards rape and rape victims in the Nigerian society threaten to banish Anya to the American prison for the rest of her life," explains Nigerian critic Gbenga Awomodu.
Directed and produced by Nigerian-born Chineze Anyaene, Ijé has had a major influence on Nigeria's Nollywood film industry, notably the second largest in the world. "Since the inception of filmmaking in Nigeria 15 years ago, the world has been waiting for one Nollywood film that stands apart from the rest, one that will capture the minds and hearts of movie-goers worldwide, one that will leave a timeless memory, capable of illustrating the creativity, tradition, and essence of Nigerian culture. Ijé is that movie," noted Nairaland upon its debut.
As of December 4, 2012, Ijé can be streamed from Amazon Instant Video, iTunes, and the Global African TV website.  DVDs can also be purchased from Amazon.com (U.S.) and Amazon.com (Canada). For more information, go to www.globalafricantv.com.