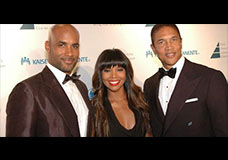 The Executive Leadership Council, comprised of current and former African-American CEOs and senior executives at Fortune 500 and equivalent companies, recently held its 2012 Recognition Gala with participation by  Actor Boris Kodjoe, Gabrielle Union and Charlie Wilson.  Shown in the photo are: Boris Kodjoe, Gabrielle Union and ELC  honoree Christopher Williams
Actor Boris Kodjoe broadcasted live during the gala's "blue carpet". Actress Gabrielle Union served as emcee, and legendary performer Charlie Wilson provided the entertainment. They were shown in a photo with Achievement Award honoree Christopher J. Williams, Chairman & CEO, The Williams Capital Group, L.P.
During the event, The Executive Leadership Council (ELC) made the business case for diversity and inclusion to corporate leaders, in particular that investing in diverse senior leadership teams, including African Americans, leads to greater innovation, profitability and success for corporations.
"Diversity of thought is critical to ongoing innovation and success of global business," said Bernard J. Tyson, ELC Board Chair and President and Chief Operating Officer of Kaiser Permanente. "It's no secret that diverse teams increase shareholder value by bringing unique perspectives and diverse solutions to deliver bottom-line value. Our role as ELC members is to realize the important role we have as corporate executives to help CEOs and other leaders understand that African-American and other diverse leaders help build an environment of inclusion, where every perspective is value-add to the organization."