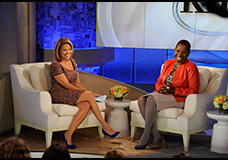 On the Thursday, September 27th edition of Katie Couric's new nationally syndicated talk show, "Katie," (check local listings, katiecouric.com) Iyanla Vanzant, inspirational speaker, author, and television personality ("Iyanla: Fix My Life"), stopped by to give relationship advice and tips. When asked why people seem to be unhappy in their relationship or marriage, Iyanla's response: "We don't understand the true purpose of a relationship. We think that's where you go to get filled, but you've got to come to a relationship filled." Iyanla then took questions from the studio audience.
IYANLA VANZANT ON WHY WE'RE UNHAPPY IN OUR RELATIONSHIPS
KC: Why does it seem that so many people are unhappy in their relationships or their marriages? What is going on out there?
IV: Well, number one, we don't understand the true purpose of a relationship. We think that's where you go to get filled, but you've got to come to a relationship filled. So we're going with our cup half empty, and therefore we're not really getting what it is that we think.
KC: So "You complete me" is not the right way to go?
IV: No, you better be complete because I don't know what you want to complete me with. You may have a little crazy you want to put in my cup. And also, a relationship is where we go to heal, a relationship is not where we go to get fulfilled. You go because the person closest to you is the one that can see you and is going to bring up all of your stuff that needs to be healed, that stands in the way of you really being loved and loving. So we're going into relationships for the wrong reasons and therefore we're miserable.
KC: Do you think our expectations are also too high? It seems to me that we've all been conditioned to think we have to be happy 24/7, that we can't get through the rough patches in a relationship, and that we want to feel good all the time. I feel people in general don't make a lot of sacrifices in some cases.
IV: And not only feel good all the time, but think everything should go the way we want it to go. And when you're dealing with another human being, listen – you get up in the morning, by the time you brush your teeth, take your shower, comb your hair, travel to work, go to work, do your work, come home, cook dinner— I don't have time to make you happy. It's enough just trying to take care of me, you know? But we do, we have false expectations, unrealistic expectations of one another. And we are not growing. We want it to always be smooth, and we're not growing. And that's what happens when you go into a relationship – you've got to grow, you've got to heal.
KC: And not compromising enough, too?
IV: Not compromising, not seeing things beyond our little box. I say it's like being alone in your head without adult supervision, that you think somebody has to see it the way you see it, want it the way you want it, be the way you want, and it's no longer a give and take.
KC: I know you've experienced divorce. What have you learned that is helpful when you're kind of counseling other people and helping them improve their relationships?
IV: One of the things is see the person for exactly who they are, not who you want them to be. The other thing is don't go into the relationship thinking, "I'm missing this, and this person can give it to me." Whatever you're missing, it will still be missing, because it's not the other person's responsibility to give you what you think you're missing. It's their responsibility to be who they are.