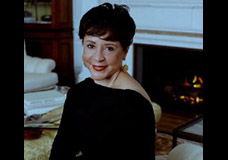 Entrepreneur and philanthropist Sheila Johnson today announced that her Holiday 2012/Resort 2013 collection of luxury scarves is now available for purchase online at www.sheilajohnsoncollection.com. Johnson, a producer, philanthropist and artist digitally prints her beautiful nature and landscape photography onto her luxurious Italian made scarves.
"For over 30 years I have been involved in the entertainment industry, founding a television network and more recently producing movies and documentaries. I've always had a tremendous interest in all of the arts and in particular, photography," said Johnson. "Now I have the opportunity to share my vision, enthusiasm for nature and passion for photography by creating luxurious scarves that also function as 'wearable art'."
Johnson's appreciation for photography began in high school when she started taking photographs with her Polaroid camera. Later, once she learned to develop her own film, her love for the art form intensified, as she witnessed the translation of her perspective into something tangible that she could hold and share. Today, using advanced digital technology, Johnson embraces photography as a canvas for rediscovery, inspiration, and passion for "being able to look through a lens and see every aspect of what's going on around you."
Made of 100% modal, the scarves retail for $475 and are produced and manufactured in Prato, Italy.
A portion of proceeds will be donated to the Lady Salamanders, the first national all-women's Street Soccer USA team, which aims to end homelessness through sports. (Please visit www.streetsoccerusa.org.)
About Sheila Johnson:
Best known as a successful entrepreneur and philanthropist, Sheila Johnson's roots have always been in culture and the arts—a lifelong love she expresses today with the launch of her luxury scarf collection.
Johnson's eye for excellence is apparent in her every endeavor. Her business career began in the entertainment industry, where she cofounded the influential BET network. Today, Johnson works as a prominent film producer most recently producing The Butler scheduled for release in 2013 directed by Lee Daniels, starring Robin Williams, Oprah Winfrey, Forest Whitaker, John Cusack & Jane Fonda, among others.
As founder and CEO of Salamander Hotels and Resorts, Johnson oversees a growing portfolio of luxury properties, including the new Salamander Resort & Spa, opening in Middleburg, VA, in 2013. She is also the owner of three professional sports teams in Washington DC – the Wizards, the Mystics, and the Capitals.