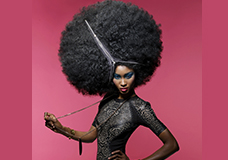 The Sanaa Circle, a friends group of the National Museum of African Art in Washington, DC, will present a fundraiser panel discussion and hair show in support of the museum Friday, Jan. 11, 2013. The dynamic evening will feature a panel discussion moderated by Constance White, editor-in-chief of Essence magazine. Panelists will discuss hair and its connections with African and African American beauty and identity, African art and its role as a canvas for expression and as a measure of personal beauty and health.
Ticket prices are $50 for general admission, which includes participation in all reception activities and viewing of the panel discussion on a screen in the museum. The $150 VIP ticket includes attendance at a pre-reception with event participants, reserved seating in the lecture hall for the panel discussion and participation in all reception activities.
A limited number of VIP tickets are available. All proceeds go to the museum. "Let's Talk Hair" will bring together some of the world's top beauty professionals, including Shirley Gordon, Wella's leading African American hair colorist; makeup artist Derrick Rutledge, who has worked with Oprah Winfrey; Johnny Wright, hairstylist to First Lady Michelle Obama; and eyebrow impresario, Erwin Gomez. This famous glam squad will create a visual interpretation of the topic of hair and Africa to bring the visual of the discussion to life. DJ Adrian Loving will play a live musical set throughout the night.
Panelists include:
A'Leliah Bundles will speak about the politics of hair, entrepreneurship and philanthropy. Formerly an Emmy Award-winning producer of NBC News and ABC News, Bundles is the author of the New York Times bestselling biography of her great-great-grandmother, On Her Ground: The Life and Times of Madam C.J. Walker.
Dr. Monte Harris, a Sanaa committee member and internationally recognized plastic surgeon, lectures and leads discussions on the role of hair in an individual's perceptions of beauty and identity. As the leader of the Center for Aesthetic Modernism and Do Good H.A.I.R. Project, Harris provides comprehensive health guidance for women seeking to achieve personal beauty that aligns with their ancestral heritage.
Sonya Clark, a Washington native, is known for using a variety of materials, including human hair and combs to address race, culture, class and history. Lowery Stokes Sims, curator of the Museum of Arts and Design in New York City, wrote, "Since 2000 Sonya Clark has created startling new art featuring hair and combs. This work is a logical extension of her much-acclaimed beaded/assemblaged headdresses and assembled/braided wig series of the late 1990s that evoked African accoutrements while advancing the basic forms to new arenas of expression."
Keith R. Harley Jr. is a celebrity hairstylist, hair and scalp specialist, trichologist, trainer, speaker, motivational speaker and coach. He owns Keith Harley Hair and Scalp Clinic located in the Washington, D.C., area.
About the Sanaa Circle
The Sanaa Circle started in 2009 and exists to support and enhance the learning and outreach programs offered to the community by the Smithsonian's National Museum of African Art. It has focused on providing financial support and building a full community of supporters for the museum to further the mission of the museum.