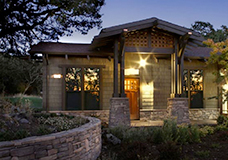 Fountaingrove Lodge, the nation's first lesbian, gay, bisexual and transgender (LGBT) retirement community to offer resort living and continuing care services, is officially nearing completion. Designed and constructed by award-winning developer Oakmont Senior Living, the 10-acre retirement campus is on schedule to open in November. While others have proposed similar full-service LGBT retirement communities, Fountaingrove Lodge will be the first in the nation to be built.
Fountaingrove Lodge is located in Santa Rosa, just north of San Francisco, an area well known for its contributions to the LGBT community. Offering superior living spaces and various resort amenities, services and healthcare options, Fountaingrove Lodge is the first of its kind to give LGBT seniors a place to enjoy a meaningful retirement in a community of friends.
Since breaking ground on the project, LGBT seniors as far away as Florida, Maryland and London have reserved their place in the community. Oakmont Senior Living recently completed construction of the apartment models and is offering a first look at life at Fountaingrove Lodge.
Located between the Mayacamas and the Sonoma Mountains, Fountaingrove Lodge is an oasis of natural beauty surrounded by native oaks and wildlife. The LGBT retirement community is a relaxing and vibrant retreat just minutes from the heart of Santa Rosa and major transportation corridors. Fountaingrove Lodge is adorned with craftsman-style architecture and finishes reflecting the beauty of the native landscape, and features fine woodwork and natural materials throughout.
As the only LGBT retirement community to provide continuing care, Fountaingrove Lodge offers independent living, assisted living and memory care services, giving residents the medical support and attention they may need in the privacy of their own homes. Blood pressure checks, flu shots and weight monitoring services are available to all residents. A friendly, professional staff is also on site 24 hours a day to provide individualized care tailored to the needs of each resident.
For more information visit www.fountaingrovelodge.com