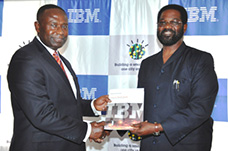 IBM  announced the launch of a report entitled " A Vision for Smarter Growth: an IBM Smarter Cities Report on Accra, Ghana" that highlights how the rapidly emerging West African city should turn to technology to transform its key urban systems. Based on the opinions of local experts from across public and private sectors and civil society, the report identifies city services, transportation, and energy as essential for Accra's urban reform.
According to the International Monetary Fund, Ghana is one of the fastest growing economies in the world, driven by an emerging oil and gas industry, a growing base of consumers and significant foreign investment. Its capital, Accra, is one of Africa's fastest emerging cities. According to Mastercard's African Cities Growth Index, Accra is ranked Africa's top city in terms of economic potential over the next five years. Accra has also experienced significant demographic growth, the city's population expanding by over 1 million people – a 35 percent increase in the past decade, placing increasing strain on the city's resources.
"As Ghana's capital, Accra is emerging as one of Africa's economic success stories," said Alfred Vanderpujie, Mayor of Accra. "But such growth is not sustainable in the long term if we do not act now to put in place the systems and processes of the future. Technology is clearly one of the fundamental building blocks for creating a smarter and better functioning Accra."
The publication of the IBM report follows the launch of the Ghana government's National Urban Policy Framework and Action Plan, which is aimed at improving infrastructure and raising revenue in Ghana's cities to reduce poverty and tackle urban growth challenges.
"Cities across Africa are facing the dual challenge of rapid urban and economic growth," said Joe Mensah , Country General Manager of IBM Ghana. "IBM's approach is to enter a dialogue with key stakeholders and experts on the ground to understand the challenges and explore where technology can be successfully applied to transform the systems on which our cities depend. The scale of Accra and its challenges creates a manageable environment for implementing smarter systems that could really improve lives and business."