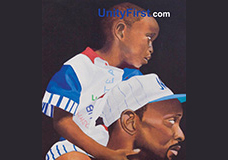 Meet Harvard College Dean Evelyn M. Hammonds who has launched a research program at Harvard's Du Bois Institute… Smith College students to discuss Sonia Sotomayor story — Rapper NAS and Harvard  launch Hiphop Fellowship .. African American's on Boston's Mayoral Campaign Trail–Charlotte Golar Richie, Charles Clemons and Charles Yancey.. —       Meet cover artist Ralph Beach – Capturing a father-son moment.
To view the publication, CLICK HERE .   As you recognize and celebrate the 50 th anniversary of the historic March on Washington, let us remember that the journey is not over and the work for justice continues. While strides have been made, we still have work to do in hopes of narrowing the divides, breaking through glass ceilings, and bridging the gaps. We hope that you will read  and support UnityFirst as a positive communication vehicle that inspires people to be better and do better through education, communication, and collaboration. We thank you for your readership and look forward to your contributions and support. We extend a special thanks to our cover artist Ralph Beach
We hope that you will share your regional or national news, advertisements and stories with UnityFirst.com. For more information, or to submit information, please call (413) 221-7931 or send to jfondon@unityfirst.com .  Check us out on www.unityfirst.com or via Facebook, Twitter or LinkedIN.