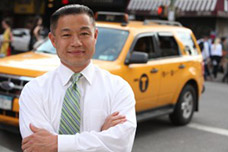 John Liu, a New York City elected official serving as New York City Comptroller, is a candidate in the 2013 New York City mayoral election. Liu entered the New York City Comptroller election in 2009 and won the race on November 3, 2009, becoming the first Asian American to be elected to a city-wide office in New York City.
Our Time Press founders and publishers, Bernice Elizabeth Green and David Greaves, are proud to endorse the 2013 New York Mayoral candidate John Liu and considers him the people's choice.
According to an article on OurTimePress.com, Greaves notes:, "One of the reasons Comptroller John Liu should be elected as the next Mayor of New York City, is that he envisions a city centered on everyday people and their humanity and not on the machinations of dealmakers and their percentages, as the most important asset of the city," For the full story on www.OurTimePress.com, click here.
Liu has also served on the New York City Council representing District 20. He was elected to the City Council in 2001 to represent northeast Queens, and was re-elected in 2003 and 2005. Liu graduated from Binghamton University in 1988 where he majored in mathematical physics. He worked as a manager at PricewaterhouseCoopers and served as president of the North Flushing Civic Association before his election to the City Council.