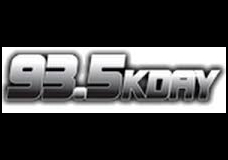 KDAY 93.5 FM, Southern California's original hip-hop and R&B radio station, and the first radio station of Meruelo Media, the Southland's leading minority-owned media group, announced impressive Nielsen Audio results. Meruelo Media (MM) is the media division of The Meruelo Group. MM currently operates two Southern California Legendary media platforms; the classic hip-hop and R&B radio station, 93.5 KDAY and one of Los Angeles' oldest Hispanic TV stations, KWHY-TV Canal 22.
KDAY is the iconic Los Angeles radio station with roots as far back as the early 80's when it was the first station in the world to ever play commercial hip-hop. KDAY helped transform N.W.A. from an unknown group to one of the most prolific hip-hop groups ever, and it helped launch the careers of many mainstream artists such as Dr. Dre, Ice Cube, Ice T, LL Cool J, and Queen Latifah. KDAY reflects and appeals to the diversity of the Southern California market with its unique and unmistakable West Coast sound.
October 2014 KDAY Rating Highlights
KDAY's consistently strong and stable brand attracts Millennials: L.A.'s most populous generation, comprise nearly half of KDAY's audience. The Oct. '14 PPM shows an estimated 507,100 Millennials listen to KDAY each week. Compared with the market norm, Millennials are 60% more likely to listen to KDAY.
For a complete schedule of KDAY programming and upcoming events, visit www.935kday.com.