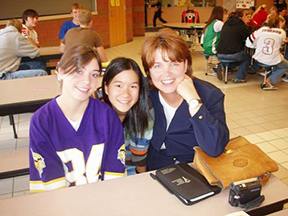 Founded in 1990, PAX is a non-profit educational organization and one of a select few U.S. Department of State-designated Exchange Visitor Programs chosen to participate in the prestigious U.S. government sponsored Future Leaders Exchange (FLEX) and Kennedy-Lugar Youth Exchange and Study (YES) programs. Each year, more than 1,100 teenagers visit the U.S. as PAX exchange students.
A community coordinator is an independent contractor who represents the PAX program in the local community. "It is a great opportunity to provide families in your community a positive, life-changing experience through exposure to a new culture," says Bradley Smith, PAX president and chief executive officer.Community coordinators are responsible for recruiting and screening volunteer host families; arranging placement with local high schools; and supporting students, host families, and schools throughout the academic year.
"What is rewarding for me as a community coordinator is being able to see the U.S. through the eyes of my exchange students. Every new enhancement trip or activity we do as a group makes me feel like I am touring a new part of America with them," says Tracy Bolin, community coordinator from South Carolina. "I have been very fortunate and lucky to have worked with and shared many great adventures with a lot of awesome kids, and the time spent together has given me an opportunity to learn more about each one of them on a personal level. I look forward to many more adventures with my future students."
The position boasts part-time, flexible scheduling, modest compensation on a commission basis, annual domestic and international educational travel perks, and is managed from home. Many, but not all, community coordinators bring international, education, or youth program experience to the role. And the most successful have excellent networking, public relations, communications, and sales skills.
Photo – http://photos.prnewswire.com/prnh/20140717/128415
SOURCE PAX – Program of Academic Exchange