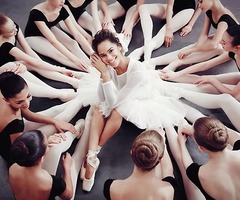 A feature documentary about African-American ballerina Misty Copeland examining her prodigious rise, her potentially career ending injury, and themes of race and body image in the classical ballet world. The film also includes exclusive, unseen footage of Misty performing.
There are showings in NYC as early as October 14. For upcoming film showing dates, go to http://www.aballerinastale.com/see-the-film/
ABOUT THE FILM
Few dancers make it to the highest levels of classical ballet. Of that already small number only a fraction of them are black women. Misty Copeland, from the small California city of San Pedro, has pulled herself up the ladder at American Ballet Theater (ABT) from the studio company to the corps de ballet to soloist. The only rung in the ladder left to climb is principal dancer aka prima ballerina.In 2013, after more than a decade at American Ballet Theatre Misty was offered the lead role in Igor Stravinsky's Firebird to be performed at New York's Metropolitan Opera House, a major coup for a soloist.
The night of her performance Misty danced beautifully. But at the celebration afterwards she revealed she had been performing in great pain. Later Misty found out that she had six fractures in her left shin. Without corrective surgery the shin might one day break. Many doubted she would dance again.
A Ballerina's Tale is then an intimate look at this artist during a crucial period of her life. The bulk of the film is a cinema verité influenced look at Misty's journey, from the triumph of Firebird, the painful road back to dancing and to an unexpected third act where Misty not only returns to the American Ballet Theatre stage but emerges as a pop star in the process.
Misty Copeland's career shines a light on several challenges within the world of classical ballet: the absence of women of color at major companies despite so many gifted black women ready to make the leap; the emphasis on skinny bodies for ballerinas impacts the health of professional dancers and sends a negative message to young fans around the world. Misty, because of her race and her curves, is central to both issues in the classical dance world.
The film climaxes with a landmark performance by Misty in Swan Lake, which is an acknowledgement by American Ballet Theatre that she is back, dancing at the highest level, and the fulfillment of the dream of many to see a true black swan at a mainstream international company. A Ballerina's Tale is the story of how a great talent and a powerful will combined can open doors within a very cloistered world.