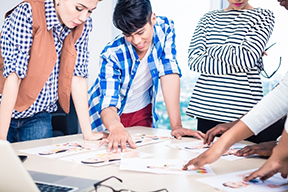 Burgeoning fields with high-growth outlooks, such as data scientist, social media manager, civil engineer, computer systems analyst and physical therapist are among CareerCast's best jobs for Millennials in 2015. Advertising account exec, financial planner, market research analyst and statistician also made the list.
The latest U.S. Bureau of Labor Statistics (BLS) figures estimate that there are 4.5 million 16-to-19-year-olds, 13.6 million 20-to-24-year-olds and 31.2 million 25-to-34-year-olds currently employed. Smart companies know that unless they start hiring these young employees soon, their future is bleak.
"Finding creative ways to hire and retain the Millennial generation – the largest generation in the workforce – is essential for companies to succeed through the rest of this decade and beyond," says Tony Lee, publisher, CareerCast. "That's especially true for companies looking to fill jobs in the STEM (science, technology, engineering and mathematics) sector, where demand is outpacing supply."
For Millennials still in college, majoring in a STEM field is the single best way to guarantee a strong return-on-investment after graduation. And while completing a STEM degree requires a lot of hard work, there are many career paths to choose from.
For instance, the growing need for infrastructure improvements nationally means that Millennial civil engineers will have their choice of opportunities at strong pay rates. And the growing demand for new apps and other mobile components spells a similar outlook for software engineers.
To be sure, not every job that ranks as one of the best for Millennials is going to pay big bucks immediately, but the potential for upward mobility quickly is fair compensation for many.
CareerCast's Best Jobs for Millennials :
ADVERTISING ACCOUNT EXECUTIVE
Annual Median Salary: $115,750
Projected Growth Outlook: 12%
CIVIL ENGINEER
Annual Median Salary: $79,340
Projected Growth Outlook: 20%
COMPUTER SYSTEMS ANALYST
Annual Median Salary: $79,680
Projected Growth Outlook: 25%
DATA SCIENTIST
Annual Median Salary: $124,149
Projected Growth Outlook: 15%
FINANCIAL PLANNER
Annual Median Salary: $67,520
Projected Growth Outlook: 27%
MARKET RESEARCH ANALYST
Annual Median Salary: $60,300
Projected Growth Outlook: 32%
PHYSICAL THERAPIST
Annual Median Salary: $79,860
Projected Growth Outlook: 36%
SOCIAL MEDIA MANAGER
Annual Median Salary: $ 46,169
Projected Growth Outlook: 13%
SOFTWARE ENGINEER
Annual Median Salary: $ 93,350
Projected Growth Outlook: 22%
STATISTICIAN
Annual Median Salary: $75,560
Projected Growth Outlook: 27%