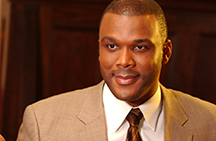 The Jackie Robinson Foundation (JRF), which turns 42 this year, announced  that it will honor filmmaker and philanthropist Tyler Perry, Chairman and CEO of BNY Mellon, Gerald L. Hassell, and retiring President and CEO of McDonald's Corporation, Don Thompson, on March 9, 2015 at 6:30pm at its Awards Dinner, the Foundation's annual black-tie fundraiser held at the Waldorf Astoria.  Each honoree will be recognized for embodying the humanitarian ideals of Jackie Robinson through devoting their lives to the promotion of social justice, excellence and human dignity.
The gala raises funds for the Jackie Robinson Foundation's unique scholarship program that provides financial grants in addition to mentoring and leadership training for minority college students, and for the Jackie Robinson Museum project. The evening will also feature a performance by GRAMMY Award-nominee Kem, dinner and dancing.
"The honorees we will recognize have each, in his own way, made a compelling, positive impact on society and have carried on the ideals promoted by Jackie Robinson," said JRF President and Chief Executive Officer, Della Britton Baeza . "Since the Foundation's inception, it has been our mission to empower young men and women while addressing the achievement gap in higher education. We are proud to distinguish this year's honorees as role models for our Scholars."
"Having been a JRF Scholar myself, I can attest to the important impact that the Jackie Robinson Foundation has on these young lives," said JRF Chairman, Gregg Gonsalves. "The awards dinner is an important fundraising event for the foundation, and I thank all those who support the mission of JRF and the legacy of our namesake by attending this annual tradition of recognizing those who truly make a difference."
Tyler Perry will receive the Foundation's ROBIE Humanitarian Award, presented to an individual who has worked to promote equal opportunity, social justice and humanitarianism, in the spirit of Jackie Robinson and the values he embodied.  Don Thompson will receive the ROBIE Achievement in Industry Award, the Foundation's highest tribute to an outstanding individual or individuals who has promoted and expanded access and opportunities in the corporate sector. Gerald L. Hassell, likewise, will be honored for his commitment to ensuring opportunities to all constituent groups who make up the global workforce by receiving the ROBIE Achievement in Industry Award.
Over the last 41 years, JRF has recognized some of the most important names in business, politics, religion, education, media, sports, and the arts, including Desmond Tutu, Mariano Rivera, Wes Bush, Sanford I. Weill, Marian Wright Edelman, Joseph Perella, Robin Roberts, Michael Jordan, Dr. Benjamin Carson, Sheila C. Johnson, Joseph J. Plumeri,  Allan H. (Bud) Selig, Arthur Ashe, Tom Brokaw, Ella Fitzgerald, Spike Lee, Clive Davis, Henry L. "Hank" Aaron, Sean "Diddy" Combs, George Lucas, J.W. Marriott, Jr., Robert Redford, Ruth J. Simmons, Rita Moreno, Paul Tagliabue, John D. Finnegan, Bruce Ratner, Thomas Tull, Carole Simpson, Henry Louis Gates, Jr., John "Jack" Welch, Jr., Ruby Dee and Ossie Davis, Dick Gregory, Gordon Parks, Stevie Wonder,  Hillary Rodham Clinton and Ralph Ward .