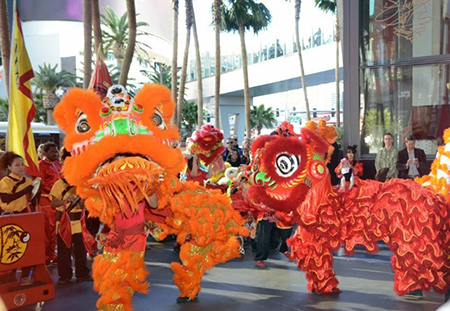 The first day of the 2015 Chinese New Year is on February 19, 2015 in China's time zone. This day is a new moon day, and is the first day of the first Chinese lunar month in the Chinese Lunar Calendar system. The exact new moon time is at 07:48 a.m. on 19-Feb-2015 in China's time zone.
The "Entertainment Capital of the World" will celebrate Chinese New Year this February with an impressive collection of symbolic decor, traditional Chinese cuisine and activities to commemorate Year of the Yang, honoring the Goat, Sheep and Ram. This year's Chinese zodiac sign is believed to bring peace and harmony. Year of the Yang is also known for bringing good fortune, making Las Vegas the ideal destination to celebrate.
Festive Decor & Entertainment
The Conservatory and Botanical Gardens at Bellagio celebrates Chinese New Year with a captivating display through March 15. Guests can enjoy 22,000 flowers in vibrant hues of red and gold, an assortment of silk-lantern chandeliers and Asian vignettes that incorporate Chinese design.
The Palazzo's Waterfall Atrium welcomes a massive art installation through March 8. The resort's floral and horticulture department worked with a team of artisans and a Feng Shui master to produce three unique, hand sculpted, life-size rams and eight sheep. The area is filled with Ching coins, bamboo and tangerine trees and more than 2,400 plants and flowers.
Beginning Feb. 12, ARIA Resort & Casino will transform its main lobby with celebratory decor featuring a 7-foot-tall, energy efficient LED illuminated ram made from recycled aluminum. Additionally, a 229-foot-long dragon will hang from the lobby's ceiling and wind through 140 lanterns. Located behind ARIA Resort & Casino's front desk will be three 5-foot-tall Chinese Deities personifying happiness, wealth and longevity.
The Cosmopolitan of Las Vegas welcomes "Lucky Cat" in honor of Chinese New Year. "Lucky Cat" is a 9-foot-tall interactive art exhibit based on the fabled cultural icon of good fortune. Designed to reward the curiosity of those who stop and explore, "Lucky Cat" dispenses a fortune card to all who place their hand on its paw. For a select few, this fortune will function as a golden ticket to a variety of experiences at The Cosmopolitan of Las Vegas.
Wynn Las Vegas and Encore at Wynn Las Vegas will unveil three 600-pound ram sculptures gilded in gold leaf in honor of Year of the Yang. The sculptures will be on display beginning Feb. 17 and accompanied by more than 100 fruiting tangerine trees. Additionally, red, yellow and orange chrysanthemums, begonias and calandivas can be seen throughout the Wynn Atrium throughout the New Year.
The Forum Shops at Caesars welcomes a 22-foot-long and 12-foot-high illuminated dragon on display throughout the Chinese New Year celebratory season. This traditional symbol of power, strength and good luck is 950 lbs., covered in 30,000 red and amber LED lights. The dragon can be seen at the Fortuna Terrace.
The Venetian welcomes singer-songwriter and best-selling female artist in Hong Kong, G.E.M. (Get Everybody Moving) or TANG Tsz-Kei, to The Venetian Ballroom on Feb. 21. G.E.M. was one of seven contestants to compete in the popular Chinese talent show, "I Am a Singer." She is known for her fusion of soul, R&B, classical music and rock.
Cultural Celebrations
The Annual Chinese New Year in the Desert/Las Vegas Spring Festival will take place at The LINQ Promenade Feb. 20 and 21. The event is complete with cultural celebrations including Dragon and Lion dances, exhibits, performances and more.
Traditional dragon and lion dances will take place throughout the destination to celebrate Year of the Yang.