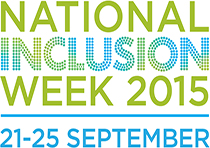 United Kingdom — National Inclusion Week, which was founded in the UK by Inclusive Employers three years ago, is now pleased to include the United States and India in the international recognition. Inclusive Employers, an organization dedicated to helping employers develop an inclusive workplace, looks forward to collaborating with partners in the United States and US National Director Janine Fondon as well as other representatives in India to deliver a historic week of information, resources, dialogue and insights about inclusion.
In the UK, National Inclusion Week is an annual week of workplace activities and events that highlight the importance of inclusion across the UK and beyond as well as forging international dialogue and discussion about the future implications of inclusive leadership. For 2015, the UK recognition will be held from September 21-25 and the US week will be from November 7-13. It is an opportunity for employers to get connected to and engage with new relationships, research, resources and strategies — beyond their normal scope and reach.
Richard McKenna MD of Inclusive Employers said: "We were delighted that over 100 UK employers signed up to take part last year, we're now calling on all other employers to do the same. It's time we got behind inclusion to end the isolation and discrimination thousands of employees face on a daily basis. We need to harness the talent of our diverse workforces to reap the commercial rewards that inclusion offers us. Inclusion is a business priority and should be at the top of your organization's agenda; being an inclusive employer benefits your productivity and profitability."
Janine Fondon, US National Director for the international recognition of National Inclusion Week looks forward to the introducing this initiative in the United States and creating inclusive relationships around the world. Janine Fondon adds, "We look forward to sharing best practices, identifying inclusion learning centers and using inclusive STEM technology/media communications to inspire and encourage inclusion through effective communication and innovation."
Over the years, UK employers have participated in a range of activities and events during the week. This year's participants include: ASDA, The Cooperative Bank, NHS Employers, TSB, McDonalds, The Co-operative, Transport for London, Enterprise Rent-a-car, House of Commons, Nomura, Macmillan, Environment Agency, Recite, National Grid, Texthelp, Southwest Trains, First Great Western are some of the leading national brands that are participating in National Inclusion Week.
This year, employers in the U.S. and India will be introduced to National Inclusion Week and invited to participate and/or sponsor. Every organization is welcome to take part in National Inclusion Week. It is free to register. Also, sponsors are invited to participate as well.
In the United States, go to www.unityfirst.com/inclusionweek.
For events in the UK, go to: www.nationalinclusionweek.co.uk
Note to editors
1.Richard McKenna, Managing Director of Inclusive Employers is available for interview. Please contact Rachel Searle on 020 7803 0689 or email: info@nationalinclusionweek.co.uk Inclusive Employers is the UK's leading membership organization for employers committed to creating truly inclusive workplaces where all staff feel valued and add value. For more information, visit www.nationalinclusionweek.co.uk .
2. Janine Fondon, the US National Director for the international recognition of National Inclusion Week, is available for interviews. Please send email to jfondon@unityfirst.com or call (413) 221-7931.Janine Fondon is also President and CEO of UnityFirst.com, an organization that works with firms on inclusive online marketing to new and untapped audiences.