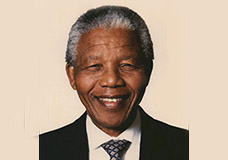 The overarching objective of Mandela Day (July 18) is to inspire individuals worldwide to take action to help change the world for the better, and in doing so build a global movement for good. The Mandela Day campaign message is simple: Mr. Mandela gave 67 years of his life fighting for the rights of humanity. All we are asking is that individuals give 67 minutes of their time, whether it's supporting their chosen charity or serving their local community. On July 18, the South African Consulate is hosting an Exclusive Brand preview of 466/64 Fashion for North America In Support of Nelson Mandela International Day.
466/64 Fashion brand Inspired by Nelson Mandela
launches in US and Canada
466/64 Fashion is both a social impact brand and a sought-after world-class apparel brand. 466/64 Fashion's promise to be a global brand, firmly rooted in Africa, became a reality with the announcement of the brand's first international partnership at a press conference at the South African Consulate on Nelson Mandela International Day on Wednesday, July 18, 2012.The announcement came after the exclusive sublicense for the United States and Canada was secured by Dallas-based Company b from Brand ID, a division of South Africa's leading clothing and textile manufacturer Seardel which is 466/64 Fashion's brand custodian and the master license holder in terms of an agreement with 466/64 (South Africa) — founded by Mr. Mandela — that was first unveiled early in 2011.
The first global fashion brand to originate in South Africa, 466/64 Fashion is inspired by the iconic legacy of Mr. Nelson Mandela, with 7-9% of the brand's proceeds going back to 466/64 (South Africa). "466/64" (pronounced four, double six, six four) is taken from Mr. Mandela's prisoner number (prisoner 466 in 1964) when he was incarcerated on Robben Island just off the coast of Cape Town, South Africa.
At the event, 466/64 Fashion brand supporters Lira, Sony Music Africa's multi-platinum vocalist, and Sam Sarpong, international supermodel, showcased signature pieces from the 466/64 Fashion range. The brand also provided an exclusive preview of its wardrobe-building collection during a mini-fashion show.
The first ranges from 466/64 Fashion's menswear, womenswear and childrenswear will initially be available in North America via its online retail platform (www.46664fashion.com ) with an exclusive offering on Mandela Day but is expected to hit retail stores in 2013 and debut during Fashion Week 2012 this September.
Erin Patton, CEO of Company b said, "There is a powerful, historical nexus between our countries and their respective movements toward social justice that gives enormous lift to the brand from the outset. Without question, our cultures are inextricably linked by the iconic inspiration and transcendent legacy of Mr. Mandela." Adds Patton, "From a lifestyle perspective, the global arc of 466/64 Fashion makes it is as relevant in Atlanta and Toronto as it is in Johannesburg, particularly among progressive, transcultural Millennials and GenX influencers who are catalysts for social change and culture creation, dictating modern fashion trends."
Wayne Bebb, CEO of Brand ID, described the response to 466/64 Fashion internationally as exceptionally positive. The North American roll-out will be followed by partnerships that will see the brand launched in several more international territories around the world during 2012 and 2013, including several on the African continent. In keeping with 466/64's commitment to social upliftment in communities on a broad-scale, 466/64 Fashion's rollout will benefit a number of community projects."As the global custodian of the 466/64 Fashion brand, we are excited to have started the journey of the promise we made to create the first global fashion brand that originates in South Africa," stated Bebb.Most importantly, the global expansion of 466/64 Fashion will increase funds flowing into 466/64 (South Africa) which will help create jobs in South Africa's local textile industry and showcase the colorful design, vibrant product and brand innovation that exists in the country and throughout the continent. This means that the brand is also making good on its underpinning intention to provide a sustainable source of income for 46664's humanitarian work and have a positive impact on the struggling clothing and textile sectors.The first major beneficiary of funds raised by 466/64 Fashion will be the Mandela Day Library Project 2012. Funds raised since the brand's launch into South African retail in August last year will fund three container libraries in the Eastern Cape, Kwa-Zulu Natal and the Western Cape. These will play a role in promoting literacy and encouraging reading in disadvantaged schools in South Africa as part of a project started in 2011 when the Nelson Mandela Centre of Memory worked with Breadline Africa and Soul City to provide nine containers converted into libraries in disadvantaged primary schools.