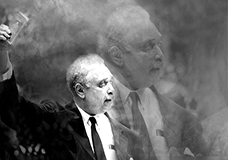 The Leon H. Sullivan Foundation and The Passport Project have partnered to help 50 "Afripolitans" make a voyage to West Africa by donating the cost of a passport to a college-aged young person. Afripolitans as defined by the Sullivan Foundation are leaders under age 40 who seek to make dynamic change in the world, which includes defining Africa in terms beyond foreign humanitarian aid. The trip is a part of the 9th Leon H. Sullivan Summit being held August 20-24 in Equatorial Guinea.
According to the World Bank, 200 million people in Africa are between the ages of 15-24. "We really wanted an opportunity to engage young people in the exciting things happening on the continent and this partnership helps us bridge that gap and focus on the next generation of leaders," says Hope Sullivan Masters, CEO of the Sullivan Foundation and daughter of the late Rev. Leon H. Sullivan.
Rev. Sullivan, famous for his Sullivan Principles around human rights and corporate responsibility, began the summits as a way to open dialogue and investment between African Americans and Africa. The goals of the summit focus on inclusive growth and self-sufficiency. This year's summit is chaired by former President of Ghana, the Hon. John A. Kufuor and will be attended by U.S. Government officials and many Heads of State and government officials from Africa and Latin America and corporate entities from the energy, telecoms, mining, finance, and agriculture industries.
"This partnership aligns with what we are doing with Passport Project – giving young people the keys they need to unlock the door to the world and realize their full potentials," says Kenji Summers, Founder of Passport Project. The select group of 50 Afripolitans includes founders of non-profit organizations, leaders in the public and private sector, as well as a network of creatives in the arts. "I am elated to be a member of an amazing initiative that values our voices enough to invest in our participation and can't wait to build and network with other participants," says Inez Nelson, Director of Immersion Excursions, a boutique volun-tourism travel agency.
Persons interested in attending the summit have until August 1, 2012 to register. The cost of registration is $2012 USD and includes chartered air travel, accommodations, and all delegate events.
The Leon H. Sullivan Summit, an initiative of the Leon H. Sullivan Foundation was the first internationally recognized Summit of world leaders, convened on African soil, by a non-governmental private foundation. Held biennially in an African nation, the Summits have hosted high-level U.S. Government officials, including former U.S. Presidents Bill Clinton and George W. Bush, as well as former U.S. Secretaries of State Colin Powell and Condoleezza Rice. Since 1991, more than 20,000 people from the United States and across Africa have attended the Summits and more than $180 billion of debt relief from developed nations has been forgiven through the work of the Summits. More information can be found at www.SullivanSummit.org.