Paris, France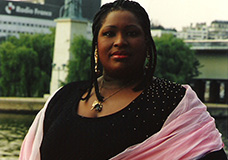 Commemorative plaque now placed at the late Carole Denise Fredericks' home in France

French music sensation Carole Denise Fredericks (1952-2001), sister of Blues great Taj Mahal, was remembered by her friends and family in France as a passionate performer who was known to "weave together the threads of blues, jazz, gospel and R&B into a uniquely French tapestry."
Carole Fredericks was moving up the charts in France while her brother Taj was pursuing his career largely in the U.S.,. She was one of the most celebrated African American singers in France and following the famous footsteps of other well-known international artists until her death. Between 1990 and 1996, Carole was in the trio Fredericks Goldman Jones alongside singer-songwriter Jean-Jacques Goldman and Welsh-French guitarist Michael Jones. Today, her legacy continues and still fondly remembered as a bright star in the eyes of many people around the world and especially to people in France.
Recently, Fredericks' home of ten year was graced with a commemorative plaque and her family and friends celebrated her life. With this gesture Carole Fredericks joins entertainer Josephine Baker and author Richard Wright to become only the third African-American to receive a commemorative plaque from the city of Paris.
As part of the ceremony, family members and dignitaries gathered behind Nortre Dame de Clignancourt on rue du Mont Cenis to celebrate the life and musical legacy of American singer, Carole Denise Fredericks. Fredericks passed away suddenly and was buried in Montmartre Cemetery in Paris in June of 2001. The local dignitaries, colleagues, fans and family members who gathered in place Amyé Lavy celebrated her music career of 22 years and philanthropic work in France. The highlight of the ceremony was the unveiling of a commemorative plaque in honor of the late singer on the façade of the apartment building at 91 bis rue du Mont Cenis where she lived for 10 years.
Connie Fredericks-Malone, James Malone, Taj Mahal and the entire Fredericks –Williams family wish to thank the president of the Conseil Syndical, Mme Christine Hanemian and the residents of 91 bis rue du Mont Cenis, maire du 18èe, Daniel Vaillant and staff at the Mairie Dix-Huit Paris; Susan Hamlin and staff of Home Abroad Services, Timothy Ramier and the staff of Ramier Law Office and all the individuals who helped make this prestigious recognition possible.