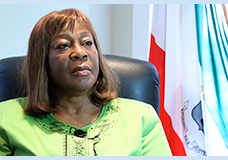 The Republic of Equatorial Guinea (Republica de Guinea Ecuatorial) is the only Spanish-speaking country in Africa, and one of the smallest nations on the continent. In the late-1990s, American companies helped discover the country's oil and natural gas resources, which only within the last five years began contributing to the global energy supply. Equatorial Guinea is now working to serve as a pillar of stability and security in its region of West Central Africa.
Purificacion Angue Ondo, the ambassador of the Republic of Equatorial Guinea to the United States, recently hosted a welcome reception for the newly appointed U.S. ambassador to Equatorial Guinea, Mark Asquino, on August 3 at the Equatorial Guinea embassy in Washington, D.C..
Attendees included representatives from the Washington D.C. business community, including Marathon Oil and Hess, and Department of State officials including Assistant Secretary for African Affairs Johnnie Carson.
Ambassador Asquino is a career foreign service officer holding the rank of minister counselor and currently serves as the executive assistant in the Office of the Under Secretary for Civilian Security, Democracy and Human Rights at the Department of State. He previously served as a senior public diplomacy fellow at The George Washington University and deputy chief of mission at the U.S. embassies in Sudan and Kazakhstan.
Purificacion Angue Ondo has served as the Ambassador of the Republic of Equatorial Guinea to the United States of America since 2005. Prior to this appointment she was president of the U.N.'s Africa Region Coordinating Committee for the Integration of Women, Central African Sub-region. Also, she is  an experienced advocate for women's rights as well as an award- winning teacher and diplomat.