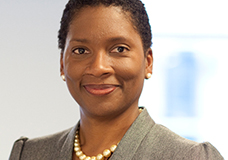 With more than half of the world's population living in cities, researchers are paying more attention to how social conditions, such as poverty, violence and isolation, in many urban areas can harm the mental health and well-being of underserved individuals and communities — and are working to identify what can be done about it. This September, leading global experts on the social determinants of mental health will join the Adler School of Professional Psychology to discuss the many ways in which city living can affect the well-being of urban residents, particularly the most vulnerable.
Dr. Todman is the Executive Director of the Institute on Social Exclusion (ISE) at the Adler School of Professional Psychology in Chicago, IL. Dr. Her work focuses on the ways in which social, political, and economic structures systematically marginalize urban populations and is multidisciplinary, drawing on the fields of economics, political science, sociology, public health, psychology, and system dynamics. She has lived and worked in Sweden, Belgium, the United Kingdom, and most recently in Italy, where she worked with urban sociologists and planners investigating the relationship between urban transport policy and social exclusion, the resulting implications for social welfare, and the role of community participation in urban development processes.
Hosted by Dr. Todman,  the conference , "The Social Determinants of Urban Mental Health: Paving the Way Forward" will  take place September 19 and 20 at the Chicago Marriott Downtown Magnificent Mile, 540 N. Michigan Ave., Chicago. For details and conference registration, visit adler.edu/conference.
Leading speakers will share recent and emerging research on the social determinants of mental health, and how the findings inform and shape government agencies' and philanthropic organizations' programming and funding priorities.
Europe's renowned scholar on health inequalities and the director of the University College London Institute of Health Equity (Marmot Institute), Michael G. Marmot, Ph.D., will provide a keynote address. Marmot's pioneering work over the last 35 years continues to advance global understanding of the social causes of health inequalities.
Additional presenters include:
–"They Are What You Feed Them" author Alex Richardson, senior research fellow, Centre for Evidence-Based Intervention, University of Oxford, and cofounder of the U.K. charity Food and Behaviour Research, who will share research on how nutrition can alter behavior, learning and mood.
–Kwame McKenzie, M.D., medical director of the Centre for Addiction and Mental Health in Toronto, who will unveil his work demonstrating how social factors such as racism are linked to poor mental health.
–Sarah Curtis, D.Phil., professor of health and risk at University of Durham, U.K., who examines how and why geographical settings lead to mental health and other health inequalities.
At a post-conference workshop, Dr. Todman will facilitate discussion on the Institute's groundbreaking Mental Health Impact Assessment (MHIA) project in collaboration with Chicago's Englewood community, as well as reveal the final results of the 18-month study. The first-of-its-kind MHIA examined a proposed revision to the U.S. Equal Employment Opportunity Commission Policy Guidance on Consideration of Arrest in Employment Decisions, and its potential impact on community mental health in Englewood. The MHIA process enables residents of low-income urban neighborhoods to provide input about policy decisions that would affect the mental health of their communities.
The Adler School of Professional Psychology has provided quality education through a scholar/practitioner model for 60 years. The School's mission is to train socially responsible graduates who continue the visionary work of Alfred Adler throughout the world.