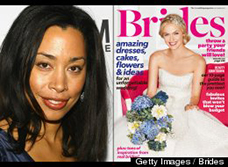 Condé Nast editorial director Tom Wallace recently announced that Keija Minor has been appointed editor-in-chief of Brides and Brides.com.
Minor had been Brides' executive editor since November 2011 and acting editor-in-chief following the departure of Anne Fulenwider.
As executive editor, Minor was responsible for day-to-day editorial operations and instrumental in developing the redesign of Brides.com, the Brides branded stationery lines and the Brides Live Wedding program, to be launched in November.
"Keija's contribution to Brides over the past several months has been invaluable and will enable her to step seamlessly into the role of editor-in-chief," said Wallace. "She is a gifted editor. Brides will benefit from both her energy and her passion."
Minor was editor-in-chief of Uptown Magazine prior to joining Brides. She had previously been editor-in-chief of Gotham Magazine following her role as managing editor of Los Angeles Confidential and Aspen Peak.
"I am tremendously excited by this opportunity," said Minor. "It's an honor to take the reins of such an iconic brand and to lead this extraordinarily talented team in bringing inspiring, innovative ideas to women at this pivotal and joyous moment in their lives."
In more than 78 years of publication, Brides has remained the most widely read magazine in the category and the country's foremost authority on engagement, weddings and marriage. Brides is published six times a year by Condé Nast and reaches 5.1 million readers.