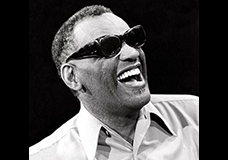 On September 23, "Happy Birthday" tributes were made in honor of the late Ray Charles who would have been 82 years old.
In Albany, Georgia, Ray Charles Plaza served as a kick-off for Albany's Ray Charles Music Festival scheduled for October. Mayor Dorothy Hubbard issued a proclamation declaring Sept. 23 through Oct. 31 as an ongoing annual celebration to be called Ray's Days.
In Boston,MA,  Berklee College of Music  held a tribute to Ray Charles  with guests including Charles's former music director Victor Vanacore; theformer Raeletts Tonette McKinney, Renee Georges, and Katrina Harper; as well as Berklee faculty, students  and other noted peformers.
Also, Professor Matt Glazer, Berklee's Director of the American Roots Music Program convened a conference-symposium on the life, music and legend of Mr. Ray Charles. The Conference began on Friday, September 21 and concluded  on Sunday September 23, 2012. It was a festive time where scholars, musicians and the larger community will reflect on the significant and indelible impact Ray Charles has had on American History and culture.
As part of the Berklee program, Lawrence "Larry" Watson, Berklee Professor, Ensembles, Voice and Performance Studies; M.P.S. (Africana Studies) facilitated a panel entitled "Ray Charles The Music the Genius and the Pathology" — humanizing one of the greatest musical icons of the 20th century.
The panel consisted of the following artists and professionals:
-Facilitator, Mr. Lawrence "Larry" Watson, Professor, Ensembles, Voice and Performance Studies; M.P.S. (Africana Studies)
-Ms. Venus Prescott, International Artist and Contemporary of Mr. Ray Charles
-Ms. Leah Randolph, International dancer, Family Therapist and Educator
-Dr. Ron White, Activist and Medical Physician specializing in drug addiction
-Mr. Eric Jackson, Educator-Musicologist and Radio Personality
-Ms. Zakiya Alake, Community Activist, Counselor-Practitioner, Community Health
-Mr. Lloyd Sheldon Johnson, Professor, Counselor –Practitioner; Ph.D.
In addition to the panelists, Alvin Foster, a Berklee Alum who arranged the opening number for the evening concert directed an ensemble of musicians highlighting some of the major hits penned by Mr. Ray Charles. The Ensemble consisted of a diverse group of men and women showcasing two young musicians, Desmond "D.J. Scaife and Amon Robinson who have been performing Ray Charles music since they were six years old.  Professor Watson performed Ray's "You are my sunshine" and the finale "Let the Good Times Roll."