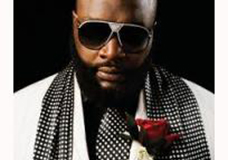 On Friday, August 17, 2012, American-born international rapper, William Leonard Roberts II (popularly known as Rick Ross), will perform in Lagos, Nigeria for the Summer Jam Fest 2012 concert at the exquisite Eko Hotel and Suites.
The Florida native who made headlines with his debut album in 2006 titled "Port of Miami" will headline the music concert alongside other Nigerian acts. The music concert is powered by St. Eve Concepts Limited. St Eve Concepts aims to promote healthy living through music and entertainment. St. Eve Concepts is an internal Wellness and Enzymatic Weight Management Company which was founded in 2006 and remains the first and only Enzymatic Health care service provider in West Africa.
Summer Jam Fest 2012 is geared to set the tone for an annual concert to promote health and proper lifestyle, and this year, some of the hottest Nigerian artists of the year will be performing alongside the aforementioned big acts.
Rick Ross released his fifth studio album "God Forgives, I Don't"  earlier this year and also collaborated with hit Nigerian duet P-Square on the remix of the well-known song,Beautiful Oyinye, a song that has dominated the airwaves since it debuted.