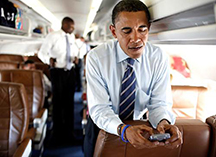 The Digital Policy Council's latest research observes established leaders significantly expanding their following on Twitter while adoption among politically unstable countries slows.
The Digital Policy Council (DPC) released its fifth annual ranking of world leaders' use of Twitter. The Digital Policy Council (DPC) is an international, non-partisan "think tank" whose objective is the advancement of open discourse on issues of inclusive government.
 It's latest report indicates almost stagnant growth in the number of heads of state on this medium. In 2014, 82% or about 4 out of 5 world leaders were using Twitter.  This figure represents only a slight growth of 2% over 2013. Notably however, the total number of people following these political leaders has jumped by 40% from 2013 to now reach a total of 116 million ― mounting up to a compound annual growth rate (CAGR) of 75% over the last 4 years.
Top 10 World Leaders who Tweet
President Obama confidently retains the #1 spot with a vast following of 51 million. The U.S. President actually holds the third largest number of followers in the entire world exceeded only by "fellow" pop stars Justin Bieber and Katy Perry.
Prime Minister Narendra Modi of India makes the most stunning entry to the Top 10, grabbing the #2 spot with nearly 9 million followers.  Prime Minister Modi not only managed to put India 16 spots ahead of where his successor had been, but also built a populist reputation for using the social platform to reach out to the "man on the street".
The anti-hero to this story is President Recep Erdoğa n of Turkey, who debuts at the #4 spot held previously by his rival Abdullah Gül. Despite ordering the Turkish courts to block Twitter during local elections, he has managed to amass over 5 million followers.
The steadiest upward mover among the Top 10 remains His Highness Sheikh Mohammed bin Rashid Al Maktoum, UAE Vice President, Prime Minister and Ruler of Dubai. He claims the #6 spot moving up from #7 last year and #10 in 2012. As a strong advocate of social engagement, Sheikh Mohammed declared that platforms like Twitter and Instagram "created new opportunities, removed all barriers and made the audience part of our development plans."
Three women leaders featured prominently in the Top 10, comprising Queen Rania of Jordan, President De Kirchner of Argentina and Brazilian President Rouseff. These role models represent a global trend with the research reflecting 88% of all women leaders currently using Twitter.
Only 10 democracies in the world have leaders who aren't tweeting
The DPC's analyses noted 84 tweeting countries out of a total of 94 countries in the world classified as fully democratic, signifying approximately 90% of the leaders of the world's democracies tweet. In contrast, only 62% of non-democratic nations have leaders that tweet. Further, the report reveals that 83% of politically stable countries have leaders that tweet.