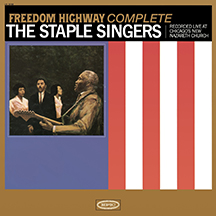 Historic Soul/Gospel Concert Masterpiece Available via CD, Online and 2LP Configurations on Tuesday, March 3, 2015
Legacy Recordings, the catalog division of Sony Music Entertainment, will release Freedom Highway Complete – Recorded Live at Chicago's New Nazareth Church, a newly remixed, remastered and expanded edition of the live concert masterpiece recorded by the Staple Singers in April 1965 in support and celebration of that year's historic civil rights marches from Montgomery to Selma, Alabama.
Freedom Highway Complete will be available as a single CD, as a digital release online, and in a special 2LP configuration on Tuesday, March 3, 2015. 
Legacy's Freedom Highway Complete is a state-of-the-art sonic verite capturing that transcendent Chicago gospel service from 50 years ago.  Featuring previously unreleased performances, the spiritually uplifting service, "Pops" Staples' Intro and Outro and more, Freedom Highway Complete puts the listener right in the church, with the Staple Singers, the choir, the band, and the congregation for a once-in-a-lifetime event.
Five decades after Selma-Montgomery Freedom Marches and this jubilant celebratory concert, Freedom Highway Complete takes on a new social and cultural relevance and urgency in light of current events.